Vegetarian Instant Pot "Cheeseburger" Soup
This vegetarian Instant Pot "cheeseburger" soup recipe is yet another favorite using my Instant Pot! This comfort food classic is reinvented by substituting the hamburger beef for vegan Beyond Beef ground. This hearty meal is a crowd favorite. I like to serve this with baked rolls and a salad.
Ingredients
2 T. extra virgin olive oil
½ medium white onion, finely diced
1 16 oz. package of Beyond Beef plant based ground
1 T. Italian seasoning
Sea salt & black pepper, to taste
1 lbs. red potatoes, chopped small
3 c. vegetable broth, divided
½ c. heavy cream
4 c. sharp cheddar cheese, finely shredded
2 T. fresh parsley, finely chopped
½ t. smoked paprika
Instructions
1

Add olive oil to Instant Pot inner cooking pot and select the "Sauté' function. Use the "Adjust" button to select the "Normal" (medium) setting.

2

Once hot, add the diced onion and Beyond Beef ground . Add the Italian seasoning and season with salt and black pepper, to taste. Stir to combine and cook, stirring frequently, until the onion develops some color and the Beyond Beef is mostly browned, approximately 6-7 minutes.

3

Push the "Keep Warm/Cancel" button and add the red potatoes and vegetable broth. Add lid and lock into place. Switch the vent to "Sealing" and select the "Manual" setting on "High." Adjust cook time to 3 minutes.

4

When cook time is complete, allow the pressure to release naturally for 10 minutes, then do a quick release for any remaining steam before carefully removing the lid.

5

To prevent curdling, temper the heavy cream by adding 2-3 tablespoons of the hot liquid from inside the Instant Pot® to it before adding it to the container. Stir to combine.

6

Add the cheddar cheese, one cup at a time, and stir until completely melted. Serve immediately with some freshly chopped parsley and a sprinkle of smoked paprika for garnish, if desired. Enjoy!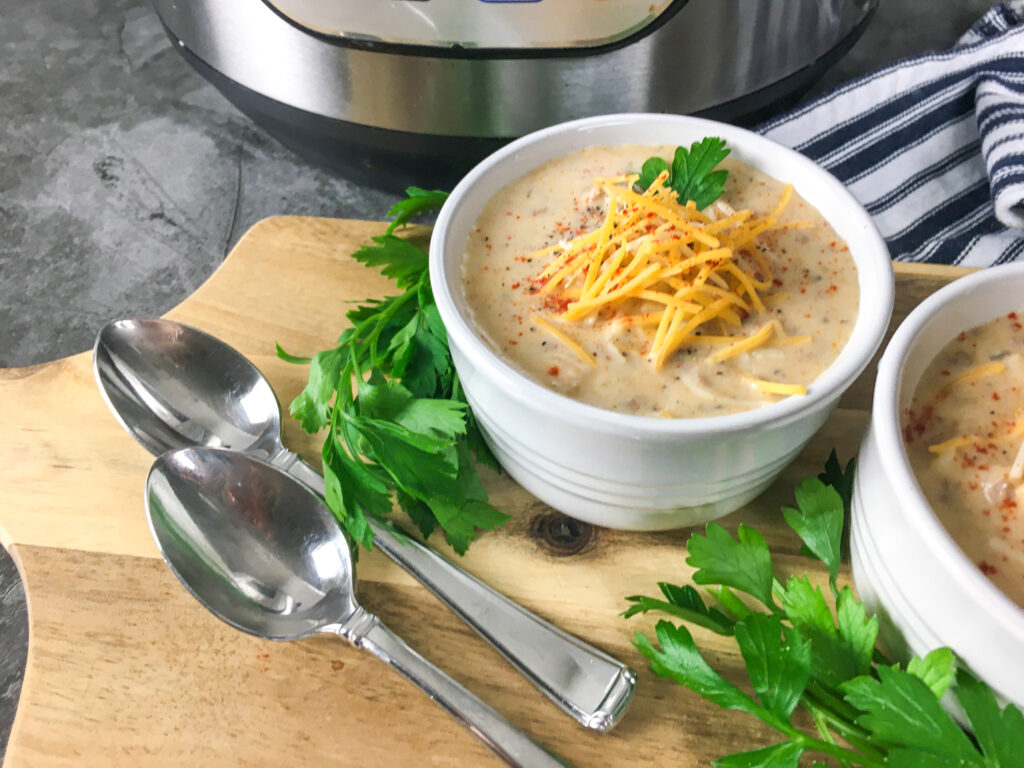 Vegetarian Instant Pot "Cheeseburger" Soup