Vegetarian Greek Pasta Salad
This vegetarian Greek pasta salad recipe can use fresh or preserved lemons. I personally prefer using preserved lemons because I love the lemon in this dish, and the preserved lemons add more intense flavor. If you can't find them in the specialty foods section of the grocery store, I recommend my favorite brand, Mina Preserved Lemons that you can buy online. They aren't too salty, and add incredible flavor.
Ingredients
1 pound penne pasta, cooked according to package directions and cooled
Vinaigrette:
¾ c. extra virgin olive oil
¼ c. white balsamic vinegar
2 T. fresh lemon juice
1 T. Dijon mustard
salt and pepper, to taste
2 T. olive oil
3 cloves garlic, peeled and minced.
1 large or 2 medium tomatoes, washed and chopped, seeds and excess liquid removed
12-15 large fresh basil leaves, washed, dried and cut into thin strips
2 t. fresh oregano, stems removed and chopped
½ c. Kalamata olives
¼ red onion, thinly sliced
½ c. fresh lemons or preserved lemons, chopped into small chunks with rinds
2 c. fresh arugula
2 T. vegetarian Parmigiano-Reggiano cheese, freshly grated
3 oz. block feta cheese, cut into equal sized chunks
Instructions
1

To make the vinaigrette, whisk the olive oil, vinegar, lemon juice, and mustard together in a small bowl until blended smooth. Season with salt and pepper and set aside.

2

Add olive oil and garlic to a cold pan and set heat to medium high. Sauté for approximately 2 minutes before adding chopped tomato. Cook for 3 minutes or until the tomato softens. Remove from heat.

3

In a large bowl, combine the cooked tomato and garlic mixture with the basil, oregano, olives, red onion and preserved lemons. Add the cooked pasta, arugula and both types of cheese. Finally, add the vinaigrette and toss to combine. Season with salt and pepper, to taste. Cover and refrigerate until ready to serve.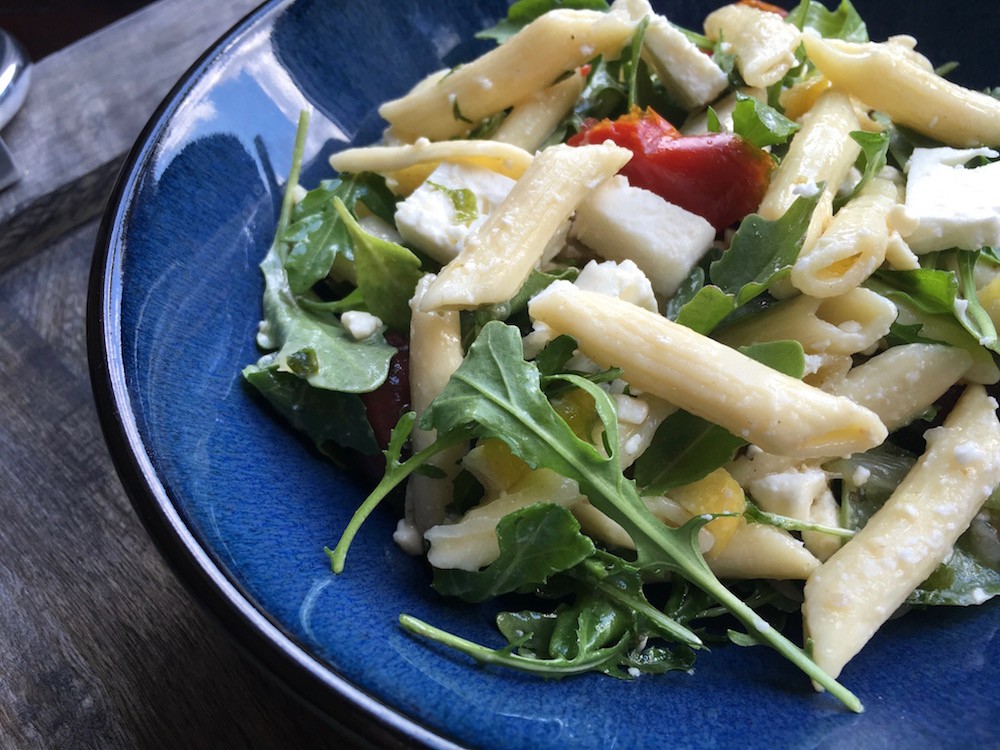 Vegetarian Greek Pasta Salad